120 USD for a car
Private tour
Driving distance:
150 km round way from Almaty
Best time for visiting:
May – October
---
I offer my own service of a private taxi to Issyk Lake with English speaking driver. Guided tour to Issyk Lake. Lowest price guaranteed.
Useful tip
Plan to start your tourd to Issyk Lake early. Summer is the peak visiting time to the lake, especially on weekend. Tourist buses start to arrive after 10 a.m. So, it is much advised to start your way to the lake around 7.30 in the morning. So, you will be on the lake almost alone for some time. You will also escape city traffic, have better weather and better conditions for nice photos. Also returning back to the hotel around 1 or 2 p.m. you will have half day free for city activities.
---
One of the main attractions nearby Almaty is the famous alpine lake Issyk. The Issyk or Isik lake is located at the height of 1800 meter in the gorgeous Alatau mountains around it. In 1963 the lake was almost destroyed by a glacial mudflow. But today it has been restored to its full glory and is loved by many local people and foreign tourists for beautifull views, clean air, nice easy hiking trails behind the lake and some specific atmosphere the lake gives you.
---
The road to the Lake takes about one and a half hour from Almaty. Trip distance is about 100 kms.
On the way, there are several popular places to buy delicious tandoor samsa and drink "airan" for a picnic on the Lake.
If you have choice, it is better to go to Issyk Lake tour on an ordinary weekday, so that you enjoy quiet nature to yourself. On some weekends several hundred people could go to see the Lake when on ordinary day one will meet just very few tourists.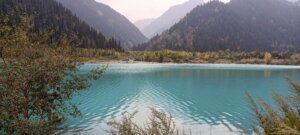 ---
Useful information about Issyk Lake and area around
---